How to place a bet
In order to select your bet: log in and if you are using the mobile app either scroll across the icons under the page header to find the Sport you wish to place your bet on:

Or, you can select 'Menu' in the footer and select your sport from the 'All Sports' section.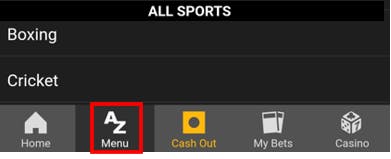 If you are using Browser, sports are listed on the left-hand side of the Exchange Tab: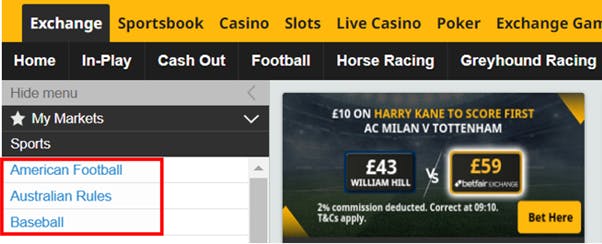 On browser or mobile, once you have selected your sport, choose the tab you wish to make your selection from. This is split down the left side into 'time' (In-Play, events that are on today, events that are on tomorrow etc) and then markets (E.G. in Horse Racing it might be 'Future Racing' (also known as Antepost), Irish racing or British Racing whereas in football it might be the Competition (such as the Champions League)).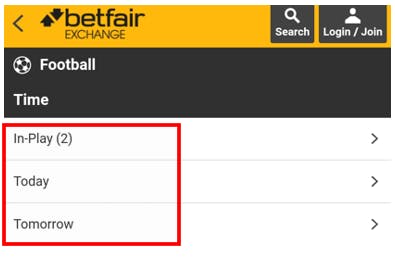 On desktop, this will display slightly differently with the time variables across the top and the competitions/ markets down the left-hand side:

Then you can scroll down to find the event you wish to place a bet on. E.G
If you click on the event name (in the example above this is where it is written 'AC Milan Tottenham') it will bring up more options. However, you can make a quick selection to either back (the boxes in blue) or lay (the boxes in red). If you select the blue 3.15 box (see here for more information on decimal odds and how they work) then you are backing Tottenham to win. However, if you select the red 3.2 box then you are placing a 'Lay' bet which means you are betting on them NOT to win (so they could lose or draw). So the red 3.35 box in the middle would be selecting the game not to end in a draw (either team could win). See our article here for more information on 'Lay bets'
If you choose to see more selections by clicking on the event name on browser, you will be presented with both tabs at the top of the page and a list to scroll down from which you can select a market to bet on. On the mobile app, this appears in much the same format: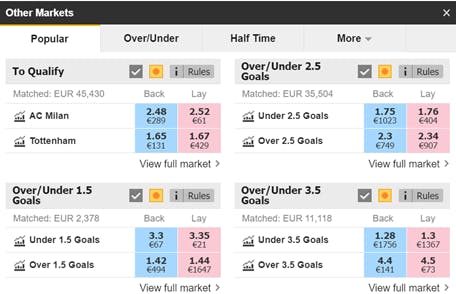 Once you have made your selection, it will be placed on your Betslip and from here you can enter the amount you want to stake and the odds you would like to place this at:

And if you have any free bets, you can decide whether or not you want to use these or place a bet using your cash balance by moving the toggle next to 'Use eligible bonus':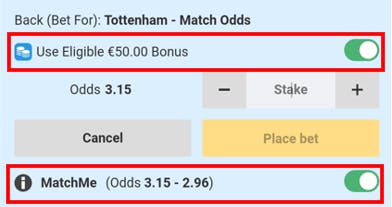 You will also notice on the above screenshot that you have the option to match this bet on Exchange using 'MatchMe'. 'MatchMe' is only available for mobile users and will not appear on the desktop site. For more information on matched betting, please read our article here and you can read more about how 'MatchMe' and how it matches bets specifically here.
Once you are happy, select 'Place bets' and you will receive instant confirmation that this has been placed by way of a receipt:

How to Place a Multiple Bet
Any form of multiple bets can only be placed on the Sportsbook product and not on the Exchange. This includes accumulators and bet builders.