Sportsbook: What is Cash Out and how does it work?
Just like the TV ad says, Cash Out lets you take profit early if your bet is coming in, or get some of your stake back if your bet is going against you - all before the event you're betting on is over.
Cash Out offers are made in real time on your current bets, based on live market prices. Whenever you are ready to Cash Out, simply hit the yellow button.
Cash out is available on singles and multiples, on a wide range of sports, including football, tennis, horse racing, and many more! You can Cash Out of bets pre-play, in-play, and between legs. Simply keep an eye out for the Cash Out icon , which indicates which of your bets will be eligible for Cash Out.

Example:
Say you place a £10 (€10) bet on the double of Norwich (6/4 or 2.5) and Liverpool (1/2 or 1.5). Norwich win, and the Liverpool game is about to kick off. The Cash Out offer shown is £24 (€24). Click Cash Out and you guarantee yourself a profit, even if Liverpool lose. The £24 (€24) is returned to your account immediately, without you having to wait for the Liverpool game to end.

Can I Cash Out part of my bet?
Yes – you are now able to do this by using our brand new slider! Simply open up the slider by clicking the "Cash Out part of my bet" dropdown, and choose how much you wish to Cash Out at that point. As you move the slider to different positions, we'll let you know exactly how much you would Cash Out at that point should you click the yellow Cash Out button, and how much you would get extra if the bet went on to win.
Tip - Make sure you keep an eye out for our "Take Stake" feature!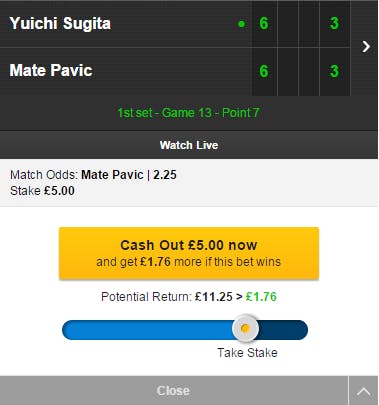 Take Stake offers you the chance to Cash Out the exact value of your initial stake on the bet, so you can have a free shot at making money without the risk of losing anything! Keep an eye out for the yellow dot on the slider, which indicates exactly where you need to click in order to Cash Out your original stake. We'll also as always tell you exactly how much will be returned to you alongside your stake, should the bet go on to win.
Tip - Remember, you can Cash Out as many times as you like on a single bet, providing that the Cash Out slider is available.

How does Cash Out work on Horse Racing?
Cash Out is available for Win and Each Way Horse Racing Singles and Multiples. You can choose to Cash Out your bet pre-play, between races, or you can choose to Cash Out your bets in-running during the race! This functionality is available on all UK and Irish racing - just keep an eye out for the orange Cash Out symbol in the betslip.
Example:
An Each-Way Sixfold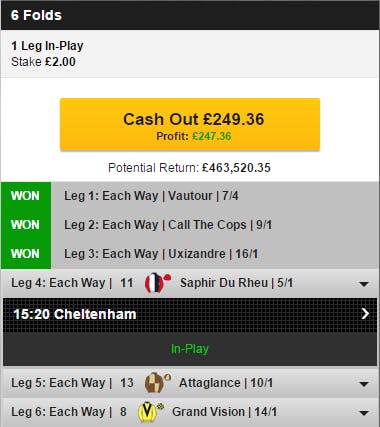 Here you can see that this bet is doing rather well, as all three selections who've raced so far have won. The fourth selection is currently running, and Cash Out is offering £249.36. With Betfair, you can choose to take the money now whilst the race is in-running, or wait to see if the selection manages to win or place in the current race. With Betfair Cash Out - you really are in control!
For races taking place outside the UK and Ireland, Cash Out is only available pre-play, and between races. You will not be able to Cash Out in-running.

Can I use Cash Out on bets placed with a free bet token?
Yes you can! Once the Cash Out offer is greater than the value of your free bet stake, you will see the offer appear in the yellow button.

Why does my bet not appear on the Cash Out Page?
Cash Out is currently only available for certain bets. To ensure Cash Out is available for your bet, please check the following:

All of the markets have the Cash Out icon next to them
All of the markets are being offered in-play
The bet does not have related selections
Does the take amount include my stake?
The 'take' amount is the total amount that will be returned to your account if the Cash Out is successful, and the stake will not be returned separately.
Why is the Cash Out offer suspended?
A market is suspended when changes (goal scored etc.) happen during an event and, as a result, the probability of your bet being successful (and the odds of your bet) may change, either in a good or bad way.

If a market is suspended causing a bet request delay your cash out request may fail.  You'd expect this to happen because a market suspension can cause a price change within a market which affects the Cash Out offer. As price changes occur, the Cash Out must fail until we know if we need to offer you a new figure or offer you what we did previously.

When betting is suspended on a market, Cash Out offers for Singles on this market or for Multiples involving this market are also suspended. If the value of the Cash Out offer would be £0, the Cash Out offer is also suspended.

Why is there a delay when I click Cash Out?
During some In-Play events, time-delays are used to ensure that there is enough time to cancel bets when a major event occurs — such as a goal being scored
Why wasn't my Cash Out successful?
Cash Out offers are not guaranteed. If there is a sudden large movement in market prices, your Cash Out may be unsuccessful. If your Cash Out is successful you will see a Success message. If your Cash Out fails, you will see a Failure message, and a new offer will appear.
When do I get my money?
When a Cash Out is successful, any returns are credited to the account immediately.