How old do I have to be to open my account?
It is illegal for anyone under the age of 18 to open an account or to gamble. If we believe you are underage we will ask for documentation to prove who you are. To read more about our verification process you can read our Customer Verification article. For more information on our Age Policy, click here.
How do I open an account?
To open your Betfair account, follow these simple steps:
Step 1. On the Betfair website or Betfair App click on the 'Join Now' button. This can be found towards the top right of the page.

Step 2.  Enter your personal details as requested. Please ensure that you double check the information is correct and that spelling is accurate to avoid any issues logging in or trying to recover your details in future.  
Next, enter your email address and password. We recommend you choose a password that contains numeric, alphanumeric, lowercase and uppercase characters, and at least one special character  to ensure that you create the most secure password possible.
*. Choose carefully your security question and answer. These will be important when interacting with our Customer Service Team.
Step 3.  Read our Terms & Conditions, Exchange Betting Rules/ Sportsbook Betting Rules and Privacy & Cookie Policy. If you are happy with these, agree to them and proceed with account registration by clicking on 'Join Now'.  
I already have a desktop account, do I need to open a new one to use the app on mobile?
If you already have a Betfair account you can use your existing username and password to log in, so you do not need to register a new account. Simply click on the 'Login' sign at the top of your screen and enter your email/username along with your existing password.
Can I open an account in any country?
Under Betfair's terms and conditions, we reserve the right to restrict registrations and betting from certain territories for legal or regulatory reasons. We reserve the right to ask you for additional proof of residence if we feel you may be contravening a local law. It is your responsibility to ensure that you comply completely with your own local, national or state laws concerning betting, prior to opening an account with Betfair, or before placing bets.
Do I need to deposit funds when opening the account?
It is not essential to deposit funds into your account on registration, but to start betting immediately you will need to credit your account using one of our payment methods. 
Do I need to verify my account?
We use electronic verification checks to ensure that you are who you say you are. Usually, we can verify you this way without having to request proof of identity or address. Sometimes though, we may need a little extra from you to support us with these checks. If that is the case we will let you know the next time you log in by prompting you and directing you to the document uploader which will explain what documents you need.
 What is the current Welcome Offer?
When you register an account, after clicking 'Join Now' you will be taken to the 'Your details' screen. The current Welcome Offer will display on the right-hand side here (below is an example screenshot)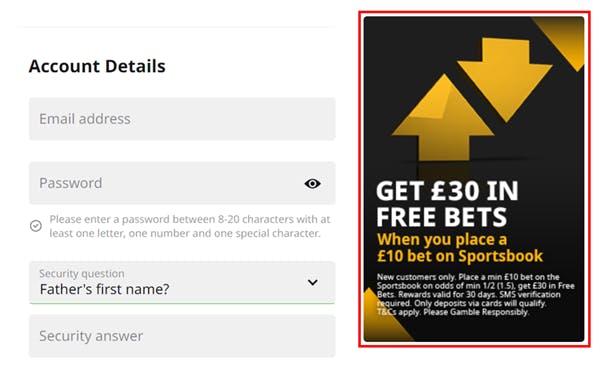 If you click on the promotion, you will be presented with all the relevant terms: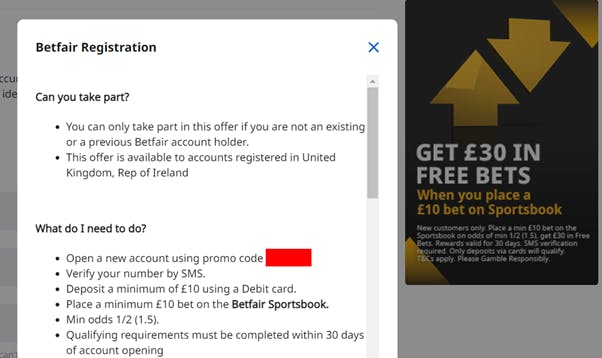 Make sure you read the terms so you know what you need to do to qualify. Also ensure the promotion code is applied to the promo code box on the previous 'Your details' screen. This should be applied automatically.
If the offer that pops up is not the offer you were looking for, you can enter an alternative promotion code when creating the account. Promotion codes are found in the Terms & Conditions for that promotion.