The payment methods we accept are detailed within the below tables. The accepted payment methods displayed on our deposit page may vary depending on your location. These tables show the minimum deposit & withdrawal amounts for the payment method as well as how long it will take to process a deposit or withdrawal.
Once you have reviewed the below tables and decided on which is the right payment method for you, read our article here to learn how to add a payment method to your account. Please make sure any payment method used is in your name When opening an account with us, you agree to our terms and conditions which forbid you from using a card in a third parties name.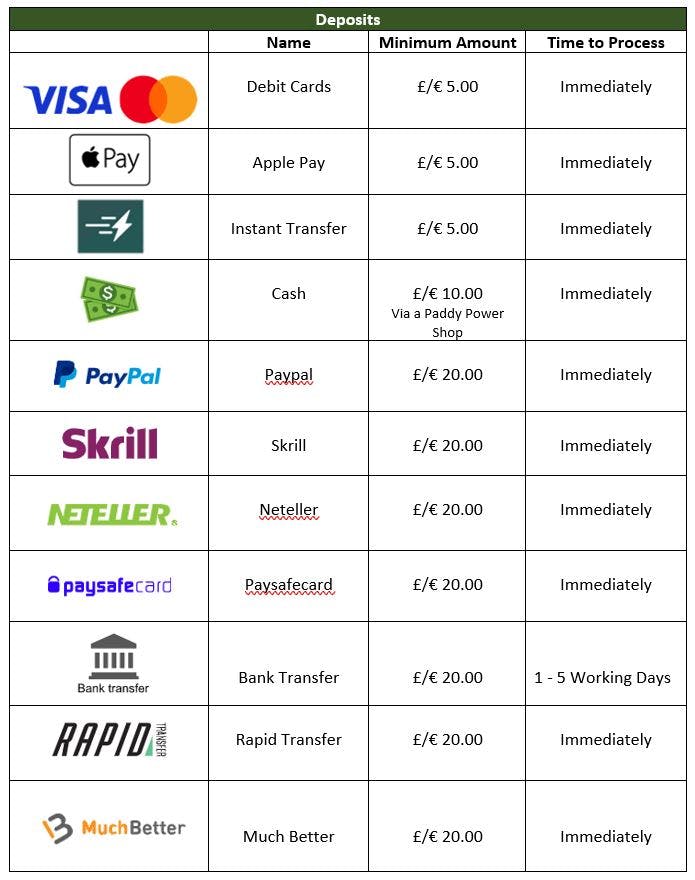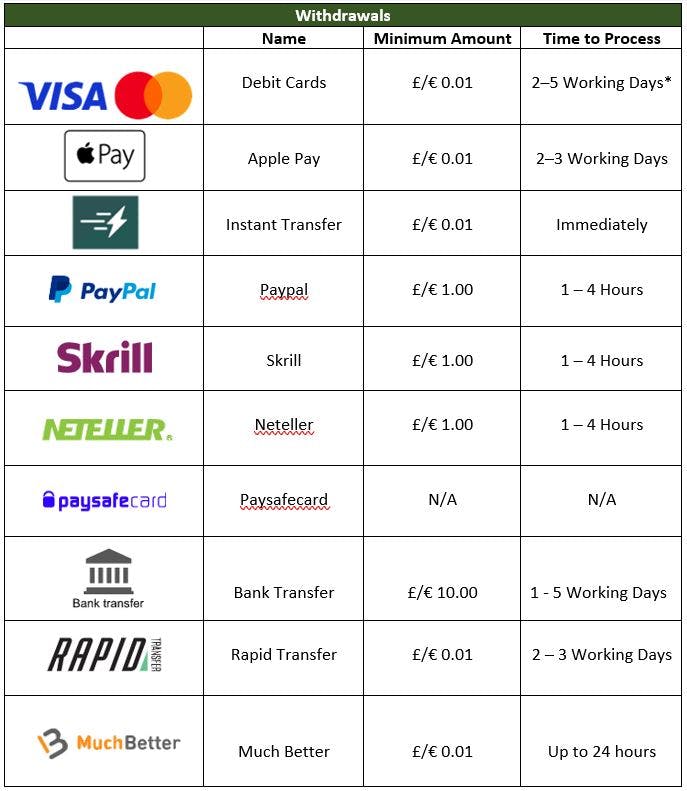 *For customers using a Visa Debit or Prepaid card, including those linked to Apple Pay, withdrawals can be in your account much quicker! The withdrawal must be made to an eligible 'Faster Withdrawal' Visa Debit or Prepaid card - this can take up to 2 hours in some cases. (Limits apply)
*Withdrawals from other cards usually take 2-3 working days to reach your account. However, please note that, due to bank processing times, withdrawals can take up to 5 working days to reach you.
For more information on Instant Bank Transfers, a payment method powered by Open Banking, which can offer both Instant Deposits and Instant Withdrawals to eligible customers, please click here.
Accepted Debit Cards
Visa Delta
Solo
Visa Electron
MasterCard
Please note:
UK Debit Cards can only be registered on GBP accounts.
You will not be able to withdraw funds back to a MasterCard issued outside of countries listed below. For further information click here.
There are some important restrictions with regards to credit card deposits, for both Irish and UK customers. For more information, click here.
List of MasterCard issued countries where withdrawals are accepted:
United Kingdom, Ireland, Andorra, Austria, Belgium, Bulgaria, Cyprus, Czech Republic, Denmark, Estonia, France, Germany, Gibraltar, Greece, Hungary, Iceland, Italy, Latvia, Luxembourg, Malta, Monaco, Norway, Romania, San Marino, Slovakia, Slovenia, Spain, Sweden, Switzerland and Turkey.