What are free bets?
Free bets are bonuses that you can use to place a bet in part or full, up to the total value of the free bet bonus you have been awarded.
How can I earn/claim them? 
You earn free bets through promotions, either by us choosing you as a lucky customer to be awarded one (in which case we will notify you by the email you registered on your account) or through joining up to and qualifying for promotions. In order to view what promotions we currently have available, view the promotions page which can be accessed from the black ribbon under the header of the Sportsbook Home Page:

Please make sure you claim your free bet from the promotions page, otherwise you won't be able to use it!
How do I know if I have been awarded them?
On desktop/browser you can check your free bet balance (called Exchange/Sports Bonus) on the Sportsbook & Exchange Home Pages, in the top right corner, next to your cash balance. Make sure you are logged in:

On mobile this will look slightly different but it is still located in the same space, in the top right of the app:
Sportsbook App

Exchange App

On Exchange, your bonus is next to the coins symbol.
Why haven't I received my free bet?
Please make sure you are opted into a promotion and have fulfilled the criteria to be awarded your free bet if you are missing any and wish to get in touch. You can do this by visiting the promotion page (which can be accessed from the black ribbon under the header of the Sportsbook Home Page) and clicking on each promotion you wanted to take part in and reading the terms.
How do I know what I can use my free bets on?
Once you have located your bets (see above 'How do I know if I have been awarded them?'), you can either select the arrow next to them if you are on desktop/browser and select 'View Details' underneath 'Sportsbook Bonus/ Exchange Bonus' from the resultant drop down: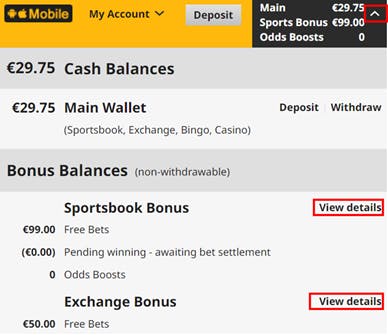 Or if you are on mobile, you can press the person icon in the top right and then, from the menu you are presented with select either 'Active Bonuses' from under the 'Promotions' section (if on the Sportsbook App)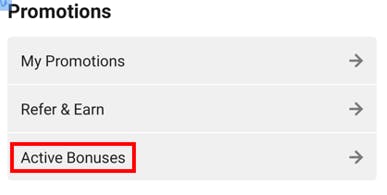 Or 'View Bonuses Details' if on the Exchange App: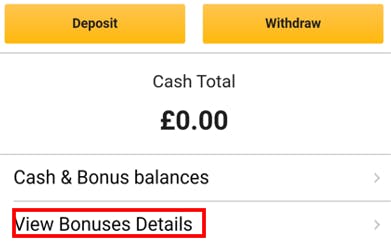 On both types of device you will then be presented with the list of free bets awarded. Each type of free bet has it's own tile with a 'View Bonus/ T&Cs' button underneath the big 'Bet Here' button (which takes you to markets to use your free bets on):

Once you click on this, you can view all the terms for those bets, including what markets you can use them on if there are any restrictions.
How do I use my free bets?
You can place your free bet by following these simple steps:
Step 1. Click on your bet selection and open your betslip in the right-hand corner of your screen. For more information on how to place a bet, read our article here.
Step 2. If your selections are eligible for the free bet you received, the 'Use eligible bonus' option is presented, tap the button (on the sportsbook app) and the 'Toggle' (on Desktop/ Browser or the Exchange app) to enable use of your free bet.
Sportsbook App: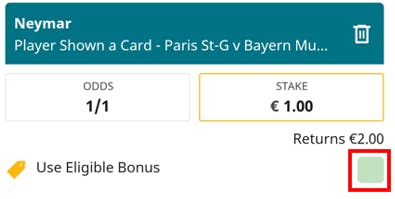 Exchange App/ Browser:

Step 3. Confirm your selections and use your free bet by tapping 'Place bets'.
Note: If the total stake is higher than your available bonus balance, the remaining funds will be taken from your main cash balance where possible.
Please also note that, if you have multiple types of free bets, we will automatically select the one that is most relevant to your bet based on the order in which it was awarded. For example, if you are awarded a free bet that can be used on any market first and a Horse Racing only free bet after and you want to place a free bet on a Horse Race, we will take the unrestricted free bet first. Please be aware of this when deciding which order to place your bets and how to use your free bet balance.
How do I know how much of my free bet balances I have used/remaining?
If you follow the steps outlined under 'How do I know what I can use my free bets on?' and stop before you select 'View Bonus/T&Cs', there is a gauge in the middle section which fills up as you use your bets:

This shows you how much you have used of a particular free bet type.
Do free bets have an expiry date?
Some free bets do have an expiry date which can be viewed in the free bet terms. To view these terms, see the How do I know what I can use my free bets on? Section.