There are two types of bank transfer that we offer, a standard bank transfer and an instant bank transfer.
What are the main differences, benefits and timescales between a standard and an instant transfer?
Standard Bank Transfers take between 1 & 5 days to reach your Betfair account (deposits) or your bank account (withdrawals). After your first Instant Bank Transfer (which can take up to 90 minutes), subsequent deposits & withdrawals are immediate.
The minimum deposit amount is lower on an instant transfer (£/€5 vs £/€20 on standard)
The minimum withdrawal amount is also lower on an instant transfer (£/€0.01 vs £/€10 on standard)
Instant transfers are much quicker to set up as you can do all the verification checks using your banking app whereas the standard transfer asks you to put input your bank details so you will need these to hand
In both instances, payments are authenticated directly with your bank and personal details are never stored or shared with anyone.

Are there any fees associated with Bank transfers?
Fees do not generally apply to either type of transfer. However, with standard transfers you have a daily limit as to the amount you can send. If you go above the daily limit, the transfer could be rejected, and a fee applied. This limit should be detailed at the time on the deposit/withdrawal page when making the transfer.
How do I register for instant bank transfer?
It's easy! You don't need to input your bank account details like account number or IBAN to register, you simply add Instant Bank Transfers as a deposit method and link your bank account to your Betfair account. See below the steps to take to get set up:
Once you have logged in on the app, click on the account symbol at the top right of the Home Page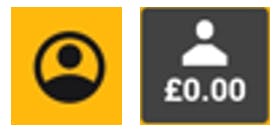 On browser you can shortcut to the Deposit Page by clicking on the Deposit button in the top right.
Alternatively you can visit our Deposit page available here.
 If using the App, then select 'Deposit' or 'Deposit Funds'
Select the 'Popular' Tab for Instant Bank Transfers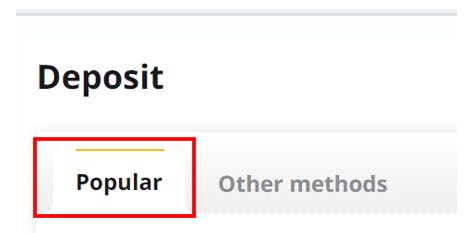 4. Select 'Add Method' and then 'Instant Bank Transfer'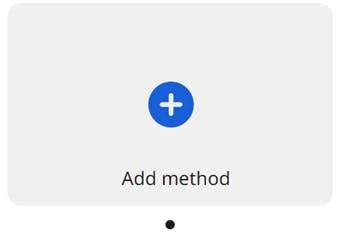 5. Select your bank from the list. Make sure that it's your personal or joint account and you are the account holder.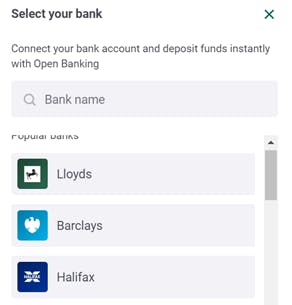 6. Once you've chosen your bank, enter an amount and click ''Connect to your Bank''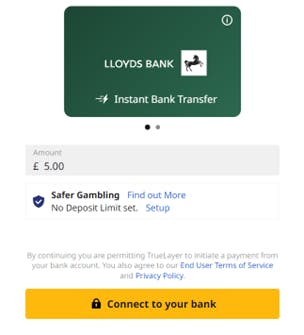 7. Click "Confirm payment" and you'll then be taken to your bank app where you can log in to authenticate the payment.
8. Once authenticated with your bank, navigate back to the Betfair app to proceed.
9. Wait for the payment to complete. You will be informed if your deposit has been successful. Funds should settle instantly in your account once complete.
For more information on adding a payment method, read our article here and get started by depositing using Instant Bank Transfers now here.
How do I register for standard bank transfer?
You don't need to register for a standard transfer, you just need to make a deposit or withdrawal using your bank details. Follow steps 1-3 above but instead of selecting the 'Popular Tab', select 'Other Methods'.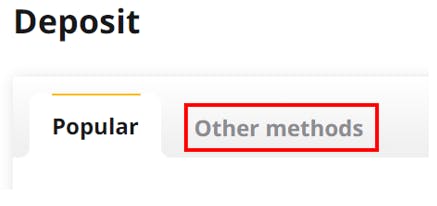 You can make a Bank Transfer from this page by looking for the below symbol and following the instructions alongside (withdrawals) or underneath after clicking on it (deposits):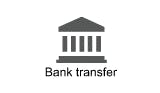 How do Instant Bank Transfers work?
An Instant Bank Transfer is powered by Open Banking. It's easier than traditional bank transfers and more secure than card payments. Your funds can settle within seconds.
Open Banking enables you to securely connect to your bank and authorise an instant bank transfer to your betting account, instead of using a card or an alternative payment method. Its goal is to give you more transparency and control over your money. You can learn more about open banking here.
How can I remove bank transfer methods?
We have released a function where you can remove bank associations without the need to contact our customer services teams. This can be done in your 'manage payment methods' tab within your account.
How many bank associations can I have on my account?
This is limited to three per account.
How secure are instant bank transfers?
With instant bank transfers, we authenticate with your bank meaning you benefit from bank-level security and your personal details are not stored or shared with anyone. We partnered with TrueLayer, an FCA (Financial Conduct Authority) approved provider, to securely connect to your bank and process your payment. For more information on TrueLayer and Open Banking, please click here.
Who can use Instant Bank Transfers?
The majority of Betfair users in the UK or Ireland will have access to instant bank transfers, with most banks currently eligible.  For the full list of bank availability click here for the UK or click here for Ireland.
Please note there are a few differences in the offering for UK and Irish customers!
UK Customers:
●       For UK customers you need to be using £ as your preferred currency and have an eligible UK £ Bank Account.
●       Both Instant Deposits and Withdrawals are available for eligible banks!
Irish Customers:
●       For Irish customers you need to be using € as your preferred currency and have an eligible Irish Bank Account.
●       Instant Deposits are now available for eligible banks.
●       Please note that after your initial Instant Bank Transfer Deposit, you will not be able to withdraw for a period of up to 24 hours. Please note that this will only happen after your first deposit, as we aim to protect our customers and keep your funds safe.
●       At present, Instant Withdrawals are available for Revolut users. We plan to be able to offer this to more customers soon, as more Irish banks enable the functionality needed!
●       Non-Instant Withdrawals are typically received within 2 – 6 hours!
What are my limits?
How much you can deposit will be dependent on your bank. You can see this in your account when your instant bank transfer method is linked on your account.
Betfair has appeared on my past transactions and transfer list in my Revolut App, can I make a deposit directly into my Betfair account from my Revolut App?
No! Please note that all Instant Bank Transfer Deposits must be made through the Betfair application. Any transactions attempted outside of this will have to be returned to your Revolut Account, please note you may need to contact customer service to ensure this transaction is returned. You can do this by selecting 'Message Us' at the bottom of this article