WHAT IS VIRTUAL SPORTS AND HOW DO I USE IT?
Virtual Sports is a selection of scheduled fixed odds games (events) that use a random number generator (RNG) to decide the outcome. All customers view the same schedules and the same outcomes.
All the events times presented in the video feed are UTC times. The time displayed in the Events Scheduler is always user preferred time.
Depending on your Internet connection there is the possibility that the video stream might appear with a delay. This is considered normal and acceptable behaviour.
For all prices presented in the video streams the Fractional display is used.
The outcomes cannot be influenced in any way by Betfair.
After the event has finished, the results are published and any bets on that event are settled. Results for past 3 months are available in the Results Centre and can be searched for.
Any winnings are credited to the customer's account. Details of a customer's bets are available in "My Bets".
We will be voiding all customer bets and return funds to customer account in the event of a technical problem with the Virtual Sports.
There is no Tricast betting available for Virtual Speedway racing.
Virtual Sports will comprise of the following products: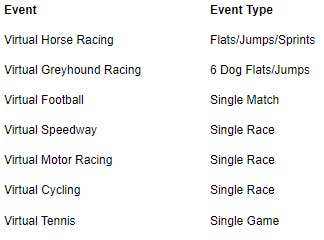 Scheduling: The Virtual Events for each sport will take place every 3 minutes; For Tennis the events will occur every 4 minutes.
WHAT MARKETS ARE AVAILABLE FOR BETTING ON VIRTUAL SPORTS?

WHAT IS FORECAST AND TRICAST TYPES OF BETS?

Forecast Betting
A "straight forecast" is a bet where you name two selections to come 1st and 2nd in the correct order for a specified event.
A "reversed forecast" is when you name two selections to finish 1st and 2nd in any order for a specific event.
A "combination forecast" is when you choose three or more selections in an event, with any of these to finish 1st and 2nd in the race.
Straight, reversed and combination forecasts are available on greyhound races provided 3 or more entries run in any one race.
Forecast bets are settled in accordance with the industry Forecast Dividend, except where stated below:
If a Straight Forecast is accepted for a race where no dividend declared, the bet will be settled as a win single on the first selection stated.

Tricast Betting
A tricast is a bet where you name the selections to finish 1st, 2nd, and 3rd in the correct order for a specified race. All tricast bets are settled in accordance with the appropriate industry dividend except where stated below.
Greyhound Racing tricast bets are accepted on all races provided 5 or more selections run.
If a tricast bet is accepted where less than 4 runners take part in the race, it will be settled as a Straight Forecast on the selections nominated to finish 1st and 2nd, with the selection nominated to finish 3rd ignored.
If a Tricast has been accepted for a race where no dividend is declared, it will be settled as a Straight Forecast on the selections nominated to finish 1st and 2nd. The 3rd is ignored for settlement purposes. If the bet is a Combination Tricast, every Tricast within that Combination will be settled as a Straight Forecast with the 3rd selection ignored for settlement purposes.

HOW DO I PLACE A SINGLE BET?
First select the sport and then the event that you want to bet on. When you have chosen, click on the price and your selection will then automatically appear on your betslip.
Enter the amount you want to stake in the box provided, and your potential winnings will appear.
To place the bet click on 'Place Bets'.

HOW DO I PLACE A MULTIPLE BET?
Simply choose your selections as you would for a single, and the betslip will create your multiple. Then choose your bet type - double, treble, Trixie and so forth - then add your stake amount. Your potential winnings will appear.
If you are happy with your selection then click on 'Place Bets'.

WHY CAN'T I COMBINE MY VIRTUAL SELECTIONS WITH THE SPORTSBOOK SELECTIONS INTO THE SAME BETSLIP?
While you have a Sportsbook selection added in the betslip, you can no longer add Virtuals selections in the same betslip. The message "Virtual bets and sports bets cannot be combined in the same betslip. How would you like to continue?" will be displayed, along with the two options available: "Clear betslip and add Virtual bet" or "Keep current Sports bets"

WHY CAN'T I COMBINE ALL MY SINGLE SELECTIONS INTO A MULTIPLE SELECTION?
In some cases the message 'Betslip contains some related selections. Only unrelated multiples can be placed' will appear. This means that you have a bet selected as a singles which is not available for combination, or have selected one or more singles selections which have related contingencies. In this case you would need to remove one or more of the highlighted selections on your betslip by deselecting.
HOW CAN I CALCULATE MY BET RETURNS?
You will be shown a potential return (which will include your stake) against every single, for multiples, we show the potential return against the biggest accumulator.

CAN I CASH OUT MY VIRTUAL SPORTS BETS?
Cash Out is not available for Virtual Sports bets.
WHERE CAN I ACCESS THE RESULTS CENTRE?
The Results Centre can be accessed from the Virtual Sports pages following the "Show more results" link in the Latest Results panel. The customers can search for events' results from the last 90 days for each Virtual Sport.
WHERE CAN I SEE MY VIRTUAL SPRTS BETS (HISTORY)?
Virtual Sports bets can be viewed under "My Virtual bets" from https://www.betfair.com/sport/virtuals.
HOW CAN I SELF EXCLUDE FROM VIRTUAL SPORTS?
Betfair is committed to and supports Responsible Gambling. If, for any reason, you wish to block access to Betfair Virtual Sports on your account, you can do so by following the steps set out below:
You will need to navigate to "My Account" on the Betfair site. Under the tab "Player Protection" you can set your Virtual Sports Loss Limit and your Virtual Sports Self-exclusion. If you wish to exclude yourself from Betfair Virtual Sports, you need to enable the check box "for a minimum period of 6 months" and enter your password before confirming with "OK".

If you'd like your account reactivated after a period of temporary self exclusion, you'll need to get in touch with our Customer Service by either phone or chat.
Our team will then be able to review your account whilst you are present on the contact.

Virtual Sports Exclusion applies to the Virtual Sports from our Sportsbook product. It does not include Virtual Sports under the Casino tab. Please note Self Exclusion for Virtual Sports in Casino can be done by selecting the Casino & Virtual Sports self-exclusion option within the "Player Protection" area of My Account.
If you are considering Virtual Sports Exclusion, please remember to contact all gambling companies with whom you have accounts and ask to self-exclude with them too. We also recommend that you consider the installation of software that will allow you to block access to internet gambling websites.
For more information please visit our Responsible Gambling section or contact Customer Service.
WHAT ARE LOSS LIMITS FOR BETFAIR VIRTUAL SPORTS AND HOW DO THEY WORK?
Virtual Sports Loss Limits cover net losses (taking winnings into account) over a rolling period.
Your Virtual Sports Loss Limits come into effect from the moment they are set. Your net loss/win is calculated over the length of time you choose (1, 7, 30 or 365 days) looking back from the moment of placing a bet to 00:00am (GMT) on the day that starts the loss limit period (1, 7, 30 or 365 days ago, according to your choice).
You can set Virtual Spo