You must have a Betfair account to play. You can log in through the main site's home page or directly when you launch Bingo.
The first time you log in you will be asked to choose a "chat name" or nickname, this will be displayed in the chat room and if you win a game.
The Bingo Lobby gives you the ability to choose which Bingo room you want to play bingo in. To help you do this, the lobby tells you what game is about to start in each room plus you can view a room's game schedule to see what's coming up.
Click on the "Play Now" button to enter your chosen room. Each room has its own exclusive chat room and bingo game schedule.
To participate in a game of bingo you must "select" and "confirm" purchase of your tickets.
The strips of tickets are displayed in the "Ticket Area" of the bingo window.
You purchase your tickets through the "Ticket Purchaser" pop-up window: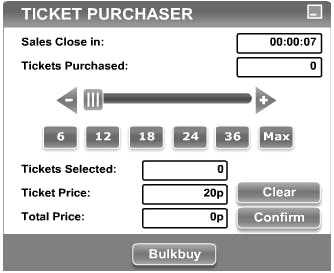 The pop-up shows the countdown time to when ticket sales close so you know how much time you have to buy your tickets. Ticket purchase for the next game closes 20 seconds before the next game begins.