What is MatchMe?
It's a feature which makes it easier to get your bet matched.
With MatchMe switched on, you can be matched at a pre-determined range of odds, which will allow you to achieve a more successful matching rate on the Exchange.
Markets can be volatile and fast odds movements can sometimes result in unmatched bets.
If you want to increase your chances of getting a fully matched bet, MatchMe will help.
How does MatchMe work?
It's a smart order type which finds you the best odds available for your desired stake if the odds reduce (only back bets applicable for this feature).
It works in conjunction with Best Price Execution so if the market moves in your favour, so will your matched odds.
If the market moves out of your favour, we've implemented some smart logic to automatically enable your bet to be matched within a pre-determined range of lower prices.
When MatchMe can't get your bet fully matched, it places your bet as a normal unmatched order.
MatchMe is only available for back bets placed on mobile.
In the example below, a £5 bet is placed at 2.5 with MatchMe enabled. Whilst the bet is processed, the odds moves to 2.4. This is within the threshold of the smart logic, and the bet is matched at 2.4. When placing a bet with MatchMe at 2.5 the maximum change in potential returns is 7% (i.e. matched at 2.4).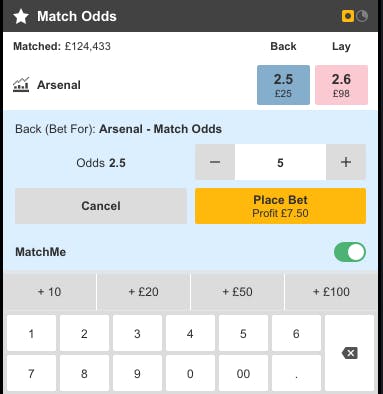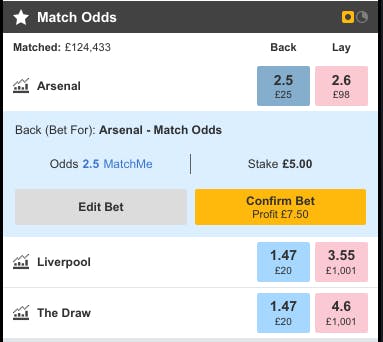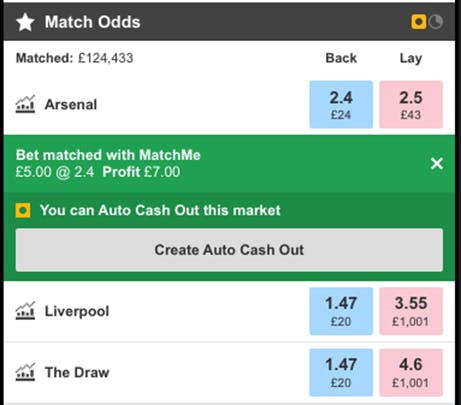 MatchMe Logic

*Max & Average refers to worst case scenarios for all odds and in majority of cases prices in-between will be matched

Examples


Price Logic Parameters


Betfair Classic Odds Ladder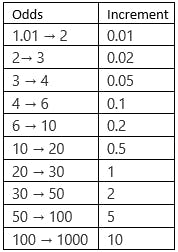 What will happen if the odds move downward outside the range after I have placed my bet, but before my bet is matched?


This will be treated like any normal unmatched bet and will be placed into the market unmatched at the original odds you requested when placing the bet. At this point the bet can only be matched at the odds you requested, if those odds become available again after you have placed your bet; or
Will remain unmatched if odds do not become available that are at least equal to those you requested.
MatchMe is a feature to assist with matching your bet at initial bet placement, if your bet is still unmatched or partially matched after the initial bet placement then it is subject to the standard exchange mechanics with regards to unmatched or partial matched bets.


How do I switch "MatchMe" on or off?


The MatchMe feature is switched off by default for all customers. However, you will be able to turn this on/off at any time in two places.
You can find the toggle by going to "Settings" from the A-Z menu and then selecting "Price Options"
You will also be able to toggle it on/off on the betslip when placing Back bets
You must have Best Price Execution enabled to enable MatchMe
MatchMe will remain as 'on' if it is switched on unless switched off as per the methods above.